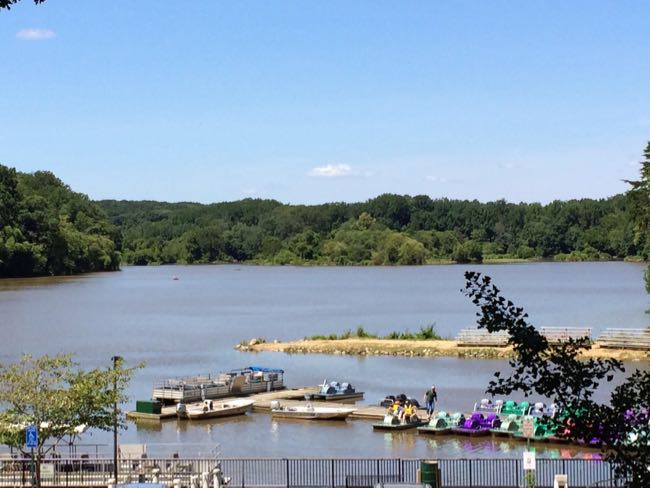 Are you in search of a secret getaway in the heart of
Fairfax County
?
There is a park considered to be a hidden gem in the heart of suburbia. Its tranquil shores are a good alternative to the heavily-populated Burke Lake.
Yes, they call it Lake Accotink Park and it's located in North Springfield. It's another park with a charm all its own. Lake Accotink Park is a destination easy to reach. Yes, it's a quick drive of 30 minutes from Washington D.C.
Rentals
For those who didn't bring there bike – rentals are $10 per hour. There are also various types of boats for rent. From rowboats to pontoons to paddle boats, the prices are quite reasonable at a range of $6 to $10. The establishment also offers a ferry ride that can take a group around the lake.
Mini Golf
If you have that skill in putting, then Lake Accotink Park has Lucky Duck Miniature Golf. Juniors and seniors have a $3 and $4 price for weekdays and weekends/holidays respectively.
Be sure to check the weather before visiting the grounds. Lake Accotink Park will alter their normal operating schedule whenever there's bad weather.
Picnics
What are things that you can bring along for your Lake Accotink Park adventure? A good camera. A frisbee. A good mat.
The picnic areas are usually not crowded and there were plenty of spots for fishing. It's recommended to come early, especially during peak times like weekends.
If you are a couple, then it's easy to plan your adventure for the day. What could be more romantic than a hike ending with a relaxing spot to sit and snuggle? Right? You will be amazed when you just sit down and relax and watch nature goes quiet and passes you by.
Trails
The park trail has a 3.8-mile pathway that encircles the whole lake. As one walks along the loop you will see people's backyards, preserved woodlands, and marshes. By the way, the trails are well-kept and these leads straight to the larger part of Lake Accotink Park. There may be surprise crossings from either a snapping turtle or a bullfrog, a fair warning to all visitors.
If you love dogs, then let them have a dip but not on the lake. Instead, follow a trail that leads to a nearby creek. Once your there, check if the water's depth is suitable for your pet. Lake Accotink Park even stocks the creek with trout, so you can cast a line and fish. There's a catch limit, though.
Summer maybe two months away in this suburban jungle. But
Lake Accotink Park
is a great place to escape and enjoy what nature has to offer.
Greater Washington Dentistry: Dr.Shohreh Sharif
8626 Lee Hwy #205 Fairfax, VA 22031
703-992-9222